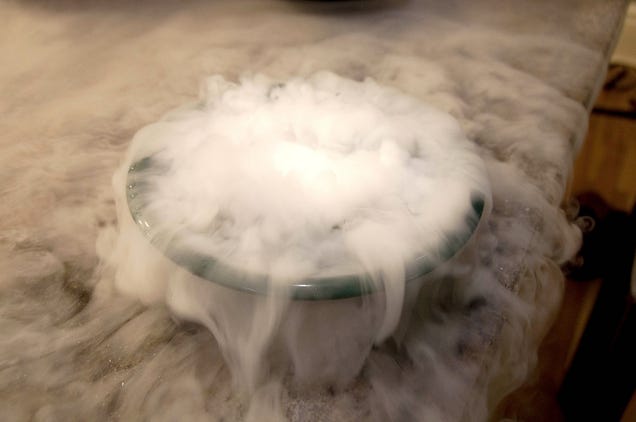 What is Absolute Zero, and does it really exist anywhere in the universe? Could we ever reach Absolute Zero in real life?
There are all sorts of reasons to be curious about the limits of cold. Maybe you're an incredibly lame supervillain who uses the power of freezing, and you want to understand the extent of your powers. Or you're wondering if it would be possible to outrun a wave of cold. Either way, in this week's "Ask a Physicist" we'll explore the farthest limits of cold.
Does all motion really stop when we hit absolute zero? Can it ever actually get that cold?
Since a one line answer ("Sort of." and "No,") probably wouldn't be very satisfying for the rest of you, I put a call out on twitter and facebook asking for your ultimate questions in coldness.
Today, for your edificiation, we're going to do an absolute zero roundup. Let's begin with the obvious, just so we're all on the same page.
What is absolute zero?
Even if you're not a physicist, you presumably wandered over to io9 today with at least a passing familiarity with the concept of temperature. But in case you didn't — and you simply cannot understand why it is that you keep losing limbs to frostbite — here's a quick tutorial.
Temperature is a measure of the amount of internal, randomized energy in a material. This "internal" part is pretty important. Throw a snowball, and even though the bulk motion is pretty fast, the snowball itself is still quite cold. On the other hand, if you look at the air molecules flying around the room right now, a typical oxygen molecule is hauling ass at about a thousand miles per hour.
I usually get called out when I gloss over details, so for the experts, I need to point out technically, temperature is a little more complicated than that. The true definition of temperature really tells you how much energy you can put in for every unit of entropy(disorder, for want of a better word) that you pump in. But ignoring that (and for our purposes it doesn't make much of a difference), the idea is that the random motions of air molecules or vibrations of water molecules within ice will get slower and slower and slower as you lower the temperature.