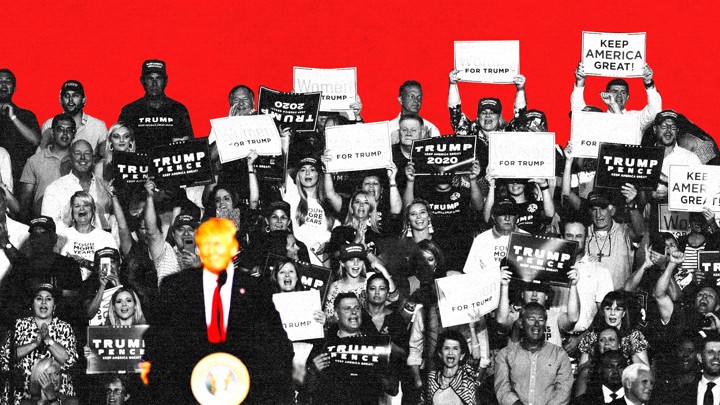 The conservative intelligentsia flocked to the Ritz-Carlton in Washington, D.C., this week for the National Conservatism Conference, an opportunity for people who may never have punched a time clock to declare their eternal enmity toward elites and to attempt to offer contemporary conservative nationalism the intellectual framework that has so far proved elusive. Yoram Hazony, the Israeli scholar who organized the conference, explicitly rejected white nationalism, barring several well-known adherents from attending, my colleague Emma Green reported. But despite Hazony's efforts, the insistence that "nationalism" is, at its core, about defending borders, eschewing military interventions, and promoting a shared American identity did not prevent attendees from explicitly declaring that American laws should favor white immigrants. Some other attendees, such as National Review's Rich Lowry, took pains to distance themselves from the president's brand of nationalism. "We have to push back against nald Trump when he does things to increase that breach between the right and African Americans," Lowry said. But in the fall of 2017, when Trump attempted to silence black athletes protesting police brutality, Lowry praised his "gut-level political savvy," writing, "This kind of thing is why he's president."
The conference stood solidly within the conservative intellectual tradition, as a retroactive attempt by the right-wing intelligentsia to provide cover for what the great mass of Republican voters actually want. Barry Goldwater did not break the Solid South in 1964 because the once Democratic voters of the Jim Crow states had suddenly become principled small-government libertarians; voters who backed Donald Trump in 2016 did not do so because they believed a nonracial civic nationalism had been eroded by liberal cosmopolitanism.The consensus that American civic nationalism recognizes all citizens regardless of race, creed, color, or religion was already fragile before Trump took office. That principle has been lauded, with varying degrees of sincerity, by presidents from both parties, and in particular by the first black president, who reveled in reminding audiences that "in no other country in the world is my story even possible." The nationalism that conservatives say they wish to build in fact already existed, but it was championed by a president whose persona was so deformed by right-wing caricature that they could not perceive it. Instead, they embraced the nationalism that emerged as a backlash to his very existence and all it represented.
Trump's nationalist innovation is not taking pride in his country, supporting a principled non-interventionism, or even advocating strict enforcement of immigration laws. The only thing new Trump brings to the American nationalism of recent decades is a restoration of its old ethnic-chauvinist tradition. Conservative intellectuals cannot rescue nationalism from Trump, any more than they could rescue Goldwater from Jim Crow, because Trump's explicit appeals to racial and religious traditionalism, and his authoritarian approach to enforcing those hierarchies, are the things that have bound conservative voters so closely to him.
The failure of the conservative intelligentsia to recognize this is why it was caught so off-guard by Trump's rise to begin with.At a rally last night in North Carolina, Trump was reminding the country of this truth. Last week, the president told four Democratic congresswomen—Alexandria Ocasio-Cortez, Ayanna Pressley, Rashida Tlaib, and Ilhan Omar—to "go back" to their countries, even though all of them are American citizens.
This is literally textbook racism.
The Equal Employment Opportunity Commission offers "Go back to where you came from" as its example of potentially unlawful harassment on the basis of national origin.Trump's demand is less a factual assertion than a moral one, an affirmation of the president's belief that American citizenship is conditional for people of color, who should be grateful we are even allowed to be here. Some elected Republicans offered gentle rebukes; others defended the president's remarks. But at his rally in North Carolina, Trump showed them all that the base is with him. The crowd erupted into chants of "Send her back" when the president mentioned Omar, the Minnesota representative who came to the United States as a refugee from Somalia.