'Don't say that to me, don't do that to me. I hate it.' I armed my daughters with these words to deal with harassment. Let's no longer mollify powerful men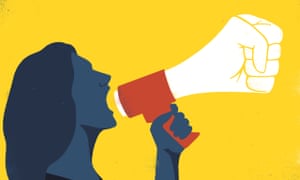 In each of my daughter's lives came the day in fifth grade when we had to sit on her bed and practice. I pretended to be the boy in class who was making her sick with dread. She had to look right at me and repeat the words until they felt possible, if not easy: "Don't say that to me. Don't do that to me. I hate it." As much as I wanted to knock heads around, I knew the only real solution was to arm a daughter for self-defense. But why was it so hard to put teeth into that defense? Why does it come more naturally to smile through clenched teeth and say "Oh, stop," in the mollifying tone so regularly, infuriatingly mistaken for flirtation?
Continue reading Women, and Men need to take it to the next level !!